Luke Strevens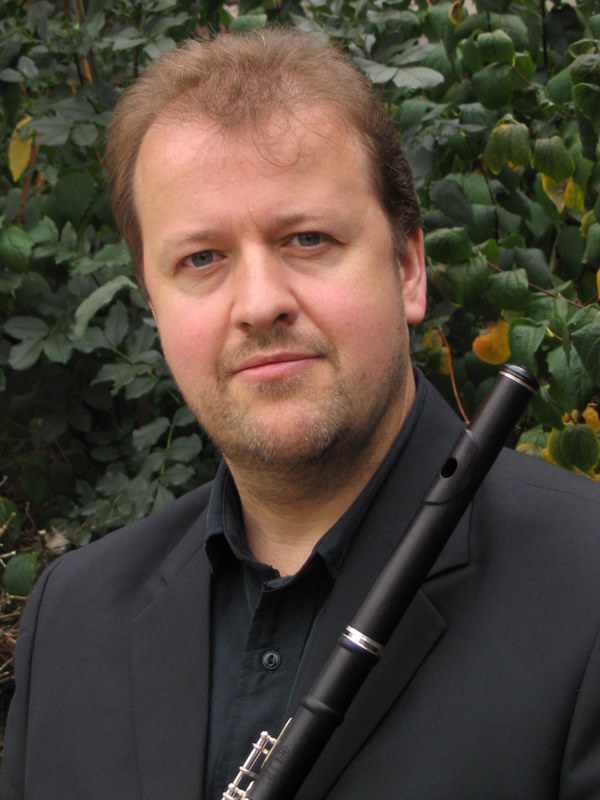 Luke has worked as a professional flautist and teacher for over 30 years.
He has worked in a broad range of musical styles from Opera, Ballet, Symphony and Chamber Orchestras to West End Shows and Pop. He also teaches students from beginner to post grade VIII as well as producing recordings both solo and orchestral.
In addition to his work as principal flute with English Touring Opera, Luke also plays with many orchestras, groups and shows in London and all over the UK.
He has made many recordings including a CD of the Mozart flute quartets with Cirrus short extracts from which are available below:
Mozart Flute Quartet in D. K.285, 1st movt
Mozart Flute Quartet in D. K.285, 2nd movt
Mozart Flute Quartet in D. K.285, 3rd movt
Biography
ORCHESTRAL EXPERIENCE
CURRENT POSITION
English Touring Opera (formerly Opera 80) Principal Flute 1985 – present
FREELANCE
Symphony
Philharmonia Orchestra flute and piccolo
London Concert Orchestra principal
Milton Keynes City Orchestra
National Symphony Orchestra principal
Worthing Symphony Orchestra principal
Johann Strauss Gala principal
Southern Sinfonia principal
Bournemouth Symphony Orchestra principal 2005
London Festival Orchestra principal 2005
Royal Philharmonic Concert Orchestra principal 1999
London Philharmonic Orchestra flute 1993
National Philharmonic Orchestra flute & piccolo 1993
London Symphony Orchestra flute & piccolo 1988
Chamber
City of London Sinfonia principal
Thames Chamber Orchestra principal
Brandenburg Sinfonia principal 2005
London Mozart Players principal 1991
Opera and Ballet
Royal Ballet Sinfonia principal & piccolo
Welsh National Opera flute & piccolo
English National Ballet principal 2009
Royal Opera House Covent Garden flute and piccolo 2003
SESSIONS/RECORDINGS
London Metropolitan Orchestra flute & piccolo
Recording of Mozart Quartets in C & D Cirrus Ensemble
Soloist on Philip Ledger's Requiem (Regent Label). 2008
National Symphony Orchestra current
THEATRE
Phantom of the Opera Regular Deputy 1987 to present
The Baker's Wife, Phoenix Theatre London Flute Chair 1989-90
Chess 1st deputy 1986-89
Sunset Boulevard Regular deputy
Into the Woods, Donmar Warehouse 1998
Enter the Guardsman, Donmar Warehouse 1997
Born Again, Chichester 1990
Also has worked with Shirley Bassey, Luther Vandross, Moody Blues, Katherine Jenkins, Russell Watson & Alfie Boe
CHAMBER MUSIC & SOLO
Solo & chamber music performances
Cirrus Ensemble - Hurstpierpoint & Shoreham by Sea, Lancing Festival 2008
Thames Chamber Orchestra at St Martin in the Fields 2003
Long Newnton Festival 2004
Chamber Music with Chamber Academy Ensemble Denmark 1999
Concertos at Entrecasteaux Festival 1997
London Virtuosi Madrid 1992
Premieres of two works for Solo Flute and Orchestra by Francois Glorieux (Palais des Beaux Arts Brussels) with the NSO 1992
Valencia Spain 1989
Musica Nel Chiostro Italy 1989
Concertante of London
Flute and Organ recitals Southern Norway 1983
EDUCATION WORK & TEACHING
English Touring Opera: Little Red Riding Hood, Jack and the Beanstalk, The Feathered Ogre
Coaching and adjudication:
Guildhall Junior Department
Essex Youth Orchestra
Croydon Youth Orchestra
Adjudicator for BBC Young Musician 1st Round
Royal College of Music 3rd Year Final Recitals
Junior Guildhall, Assessments
Teaching
Sevenoaks School
London Oratory School
St George's College Weybridge
Radlett Prep
Tring School
Royal Masonic School
Cothill School
Chandlings Manor School
Chesham High School
ORCHESTRA CONTRACTOR
Musica Nel Chiostro, Batignano Italy
Uxbridge Choral Society
RECORD PRODUCER
'Fantaisie' Edward Beckett with London Festival Orchestra. Black Box label